Featured Item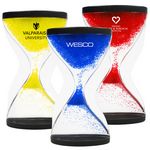 Upside Down Liquid Sand Timer (Pad Print...
Upside Down Liquid Sand Timer (Approx. 6 minutes): ~ Vibrant colors ~ Reverse action that will grab anyone's attention ~ Sand travels up, not down ~ A very unique piece ~ Request to have your logo Pad...

Grand Promotions, INC.
is located in Wayzata, Minnesota, a suburb of Minneapolis. With offices and a showroom at the Twelve Oaks center complex visitors and customers are always welcome. Please call in advance to make sure someone is at the office to assist you. 952-473-0220
GRAND PROMOTIONS is an ad speciality and custom logo apparel company. We serve small to medium size businesses, non-profits and the military throughout the United States. Our philosophy is simple. First, partner with quality and dependable manufacturers and suppliers. Second, give our valued customers quality products at competitive prices with superior service.