Grand Promotions, INC.
is located in Wayzata, Minnesota, a suburb of Minneapolis. With offices and a showroom at the Twelve Oaks center complex visitors and customers are always welcome. Please call in advance to make sure someone is at the office to assist you. 952-473-0220
GRAND PROMOTIONS is an ad speciality and custom logo apparel company. We serve small to medium size businesses, non-profits and the military throughout the United States. Our philosophy is simple. First, partner with quality and dependable manufacturers and suppliers. Second, give our valued customers quality products at competitive prices with superior service.
Featured Item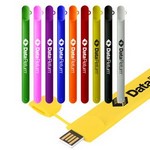 USB Slap Bracelet - 8 GB
Smack down the competition with these unique two-for-one promotional products! Great for employees and corporate giveaways, this USB slap bracelet incorporates style with function. Features a tier 1, ...